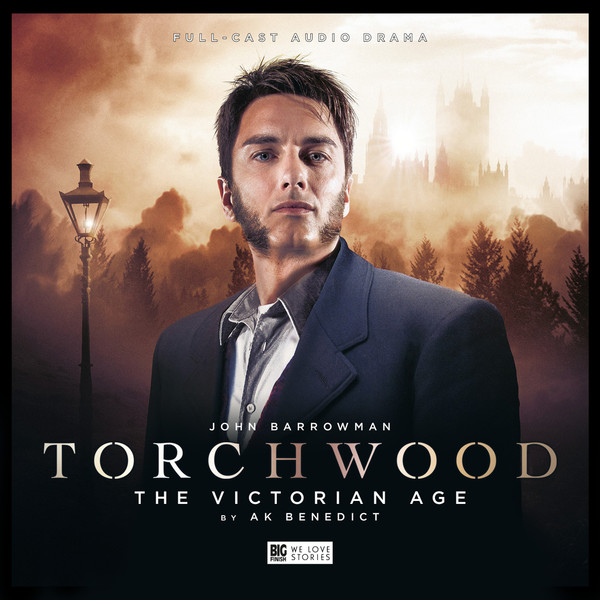 Something magical has happened. After years in a Torchwood-drought, I have discovered Big Finish. Creating original Torchwood audio-stories, the seven plays I've heard so far have been fantastic, and an excellent consolation to the lack of Torchwood on TV. It has been great to welcome Gwen, Ianto, Jack and Rhys back, as well as characters who played a smaller role in the TV series, such as the formidable Yvonne Hartman who makes a gloriously sassy return in Torchwood: One Rule. The story arc of the Conspiracy has proved to be interesting, especially as each episode focuses on the Conspiracy from various viewpoints and in differing depth. One minor thing to complain about is the lack of answers to the Conspiracy plot thread. In a couple of episodes it's not even mentioned and I'm hoping we get more answers in the next few releases.
My most recent adventure with Big Finish, Torchwood: The Victorian Age, was one of my favourites. The story features Captain Jack Harkness on secondment to Torchwood London (based beneath the Natural History Museum) in the early days of the institute. It's a real character piece for Jack and enables us an insight into his life before he ran our beloved Cardiff branch. He's still the same old Jack; battling danger with the usual cheeky swagger and charm. Though there is the small matter of taking care of Queen Victoria that's making Jack sweat.
After witnessing the outbreak of a deadly creature, Queen Vic invites herself along on the chase and gives Captain Jack a run for his money as she helps to save the world. As a staple part of Torchwood canon, it's good to have the founder of the institute interact with Jack and have her own adventure. Rowena Cooper gives a top-notch performance as the monarch, delivering her scathing lines with no-nonsense, stiff-upper-lip Britishness that makes you want to cheer 'Rule Britannia!'.  It's also nice to see the softer side to Queen Victoria (as we first glimpsed in the Doctor Who episode 'Tooth and Claw') as she comforts the mother of an injured girl, and through her growing respect for Captain Jack.
The themes of regret and loss run deeply through the story and there are plenty of references to living and enjoying the time we have left on Earth. Putting an alien that can cause de-ageing at the touch of its hand against a Queen who is frustrated by her age and desperate to rule her beloved country for longer, is an interesting concept. Just like the TV series, Torchwood reminds us that life is for living and Jack continues to emphasise how dangerous his job is. 'There isn't always another time,' he gently warns Queen Victoria, echoing the ethos of the programme.
Victorian Age is classic Torchwood. It my be on a new platform but it's still the same cheeky, but deadly, Torchwood, full of fan-favourites and bonkers scenarios. Because of course, only Captain Jack Harkness could destroy an alien whilst flirting with it.