'Phone rings, door chimes, in comes company.'
To marry and settle down, or continue with a commitment free lifestyle. That's the predicament that Bobbie faces on her 35th birthday. Surrounded by her friends, all of whom are married, Bobbie begins analysing their relationships and weighing up her options.
There are several stand out features that make Marianne Elliot's production of Company so special. For starters, it feels so modern and relevant. Although it was written in the seventies, this production brings the action crashing into 2019, with references to tinder and modern lifestyle choices seeded throughout. In the original production, Bobby is a man, but in a clever gender-swap Bobbie is now played by Rosalie Craig. Craig performs with perfection, adding depth and bewilderment to Bobbie's predicament. Craig also handles the role with impeccable comic timing and subtlety. Her performance as the light-hearted Bobbie is infused with angst and confusion as she begins to feel time is running out and a decision needs to be made. The uncertainty Bobbie is experiencing, as she questions her ideal partner and wonders whether he has already entered her life, during 'Someone is waiting' is very touching.
Sondheim's score is beautifully brought to life by the talented ensemble, with 'You could drive a person crazy' and 'Side by side by side' being particularly tightly performed. 'Not getting married today' is a hilarious number, with frantic babbling and impressive energy from Jonathon Bailey as the overwhelmed groom, Jamie, and a singing vicar in a fridge. Craig's rendition of 'Being Alive', which has to be one of the most beautiful pieces from musical theatre, is filled with emotion.

It's also the tight-knit ensemble that adds magic to Company. It's clear everyone is comfortable and supportive of each other. Their friendship on and off stage shines through.
In the role of Joanne is Broadway legend Patti Lupone who adds her trademark ascerbic wit to give the character several moments that have the audience almost whooping. Lupone's version of 'The Ladies Who Lunch' gives a great example of her presence and commitment to the role.
Mel Giedroyc (of 'Mel & Sue' fame) is also wonderful as sweet but fiery Sarah, and her scene with Gavin Spokes (Harry) demonstrates both actors' keen eye for comedy, as each partner attempts to out-do the other in a passive aggressive battle of one-upmanship.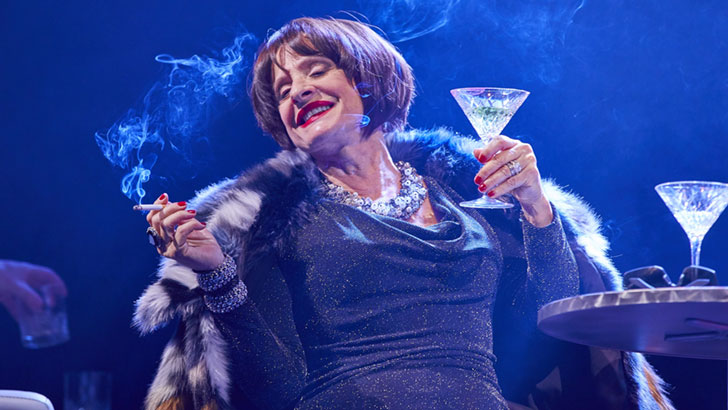 Elliott's production of Company is a rare find, as it is so close to theatrical perfection. From the seamless transition of each set piece to the gripping, honest performance of the actors, it's a joyous night out that has you questioning your own choices and values.
Being Alive, Rosalie Craig, Company