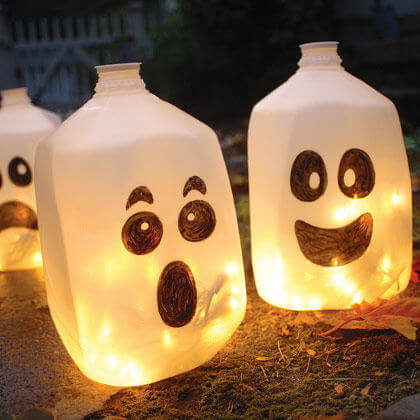 We've got a bit of a dilemma in Blwyddyn Un at the moment. Our topic is 'Celebrations' and at the start of the term I asked the children what kind of things we celebrate. We had the usuals – Birthdays, Christmas, Easter, Weddings etc….
But then came the word we'd been dreading: Halloween. I managed to brush the suggestion off but it kept creeping up.
'In the craft area, I'd like you to draw something to do with a celebration that we can put on display, please,' I announced the following week, expecting an influx of birthday cakes and Christmas trees. One boy drew a spider. Another a pumpkin. Another child drew a ghost! 'What's this?' I asked with annoying faux-ignorance. 'For Halloween!' they all chirped excitedly. 'Oh, great,' was my reply through a very forced smile.
See, personally, I don't have a problem with Halloween. I love it. And I'm all for any celebration that breaks up the monotony of everyday life. I'm not a horror kind of person but in October I just want to watch American Horror Story, eat lots of chocolate (OK, that's a constant urge) and dress as a vampire. It just comes naturally this time of year. But, professionally, I'm stuck.
When I first started working in schools I was surprised that the H-word had become so taboo. I've got a lot of fun memories of Halloween as a child and a teenager (well, from about 14 onwards. Before that I was actually scared of Halloween, much to my mother's embarrassment, but I realise I was a minority). I get that the roots of Halloween have connotations to paganism and I'm not saying we should making any sacrificial offerings or anything, but I believe Halloween is a different celebration to what it used to be centuries ago. It's part of our culture now, whether we like it or not. It's something that we do. And if it's true that Halloween stems from Celtic festivals, then shouldn't we, as descendants of Welsh Celts, be using it as a point of education?
The most obvious change is that it's now commercialised. Children are unaware of its original meanings and enjoy Halloween just because it's a bit of fun! We all like a good scare to get the adrenaline going and on these winter nights there's nothing better than curling up with some sweets and Hocus Pocus. It's become bigger, even since I was a child. Chances are they'll be trick or treating with their parents so why should we pretend like it doesn't exist and ban it from the classroom? I'm not saying we spend weeks preparing for it, like we would Christmas, but I don't see why we can't treat it like Bonfire Night and have a couple of Halloween-themed numeracy or literacy sessions. We could base some work on Funnybones or Winnie the Witch. We could design a costume. We could be developing our fine and gross motor skills by pumpkin carving! Oh my goodness, think of the scope for craft activities! Further up the school we could touch on the historical links, more so to the Welsh and Celtic side of things. We're encouraged to bring the children's interests into our teaching so it seems ridiculous to just ignore Halloween. I understand it would have to be watered down to suit the age group but, come on, it's just a bit of hocus pocus! Children learn most when they're interested and having fun, and I think Halloween ticks both those boxes.