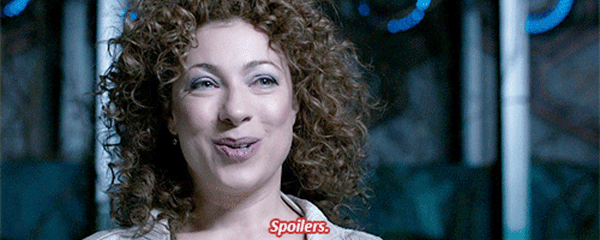 I've always been partial to a good surprise. I was one of those children who secretly hoped for a surprise party or who would hint heavily to his friends that his birthday is just around the corner and wouldn't it be lovely if everyone in his class sang to him? (Note: Rest assured, I've grown out of that.) I love surprising people too. I like to see their faces when I give them a meaningful gift or organise a treat for them. I'm a big fan of surprises – they break the monotony.
A few Christmases ago, my mum decided to tell me weeks before the big day that she had bought an iPad for me and I went ballistic. I was totally grateful for the cracking gift but I was furious that she spoilt it! Part of the joy of Christmas is the excitement and build up and she had casually demolished the mystery! Ooof! I was annoyed….
So, it's probably not a surprise that I am totally anti-spoiler when it comes to TV. I don't watch much TV, so the shows that I do watch mean a lot to me. And it means a lot to me that those programmes aren't spoiled. I present to you, Case Study One: EastEnders.
Sometimes, particularly in these upcoming cold, dreary winter days, the thought of getting home, putting on my pyjamas and watching EastEnders (and thinking 'Well, at least my life isn't that bad…') is all that makes the day bearable. I haven't missed an episode for about three years. I know it's a sad fact, but nevertheless, it is true. This week was a big week for EastEnders, with plenty of shocks and surprises promised. There was a lot of hype and, I admit, I was a bit excited. So you can imagine my disappointment when all the shocks and surprises were announced before transmission. I spent the whole week sighing and tutting as another storyline unfolded in the predictable or previously announced way. It shouldn't have been boring, but it was. (OK, there were a lot of things wrong with last week's episodes, but I maintain the stance that if everything had been kept secret I would have enjoyed the episodes a lot more.) Why do shows feel the need to leak everything beforehand? Alright, there is an argument that I shouldn't go looking for spoilers, but we're in an age now where even logging onto Twitter or Instagram can ruin a show for you – I didn't have to look far. In the last few years, under the previous Executive Producer, some of the best storylines were transmitted by surprise. Look at the 30th Anniversary episode – they brought back Kathy. Iconic and memorable and a total shock. So, EastEnders, stop spoiling things for your fans! You CANNOT hype up a mystery 'major character death' and then, days later, announce an actor is leaving and not expect us to put two and two together. We're not stupid.
On the topic of Twitter, I was getting increasingly agitated by the constant stream of spoilers in my news feed for Game of Thrones (which also happens to be Case Study two, for those of you keeping score of that). I understand people want to talk about it when they've watched it but what I don't get is the need to spoil it for everyone. You don't need to tweet (in detail) about it. You certainly don't need to record clips from episodes into a snapchat story!! (I actually had to block someone for this – What kind of monster does something like that?!). Digital Spy also seem intent on spoiling it for others by revealing spoilers in their article titles or, even worse, writing a vaguely mysterious title about a possible death in the episode then spoiling it with a picture of the dead character in question! Stop! I will read your article but let me watch the bloody episode first!
There was a time when, keen for more information on plots and such, I would have gone looking for spoilers online but I have since discovered the art of watching spoiler-free. The 50th Anniversary of Doctor Who taught me this can be a very rewarding experience. I enjoyed the episode so much more because I didn't know what was coming and I was able to immerse myself properly. The same goes for the last season of American Horror Story. Despite each episode airing in the USA days before the UK, I was able to avoid spoilers and it made the season for me. I was totally obsessed with the show and it made me want to tune in each week. If I'd known what was happening, I'd have just been tuning in out of habit or to prove my findings correct, which isn't quite the same experience.
My earliest memory of spoiler-rage is set in the school canteen. (This could be Case Study three, but to be honest, I've sort of lost track of that). I was (and still am) a huge Harry Potter fan and I used to buy each new book the day it was released, then spend as many hours as possible reading. I'd take the books everywhere – I'd read in the car, in the bath, in school during lunch time, and during 90% of the time I spent at home. I'd invested so much time in these stories and I really cared about what was happening. So, imagine my absolute (hormonally-assisted) meltdown when a girl in the dinner queue casually told everyone that Sirius dies in the fifth book. I was just pages away from the heart-breaking moment, and to hear it being announced (so proudly, by someone who hadn't even read the sodding book) sent me into a rage! If she thought it was a good idea, she was gravely mistaken. 'Oh! Thank you! Thank you very much for revealing that bit of information and saving me the trouble of finishing the book I've spent the last 48 hours reading during every waking moment. Phew! For a minute I thought I was going to have to enjoy it!'
Urgh. It still makes me cross. I can hold a grudge.
I don't understand this necessity to prevent people from enjoying something you have had the privilege of enjoying. If you have watched something awesome, why would you want to spoil it for someone else? The guy who streamed Game of Thrones over his snapchat story – what was he benefitting from that? EastEnders weren't benefitting anything from their pre-publicity reveals. If they'd have kept some mystery people might have watched to find out the answers.
So there are no positives to spoilers. The clue is in the name. It spoils everything. So stop it. Stop it right now!