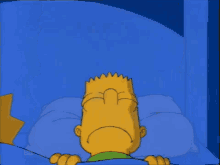 Things are taking a suitably nightmarish turn in ChezG, just in time for Halloween. Like everyone, I've experienced the disorientating cold-sweat of a bad dream on many occasions. Sleep paralysis has trapped me beneath my duvet several times too. But over the last few weeks, I'm finding myself regularly trying to shake off a nightmare, and spending the following day in a sleep deprived mind-fog.
It happened again last night. Having lay awake for a few hours I drifted off at about 2.30am but by 3 o'clock I was jolted awake by a racing heart, soaked forehead and thoughts of 'YOU WILL NEVER SLEEP AGAIN' drumming in my ears.
It's hideous.
I've got two recurring nightmares that stalk me in my sleep quite often. The first is that my teeth have fallen out (I've been told that this is an indicator that I'm either going to come into money or that I'm pregnant. No further evidence for either yet). I'm sure this is a pretty standard nightmare but it always sends me rushing into the bathroom to frantically check my gums. The second is that I'm back in the part-time job that accompanied my Uni days. I'm trapped behind the till, forced to face the mundanity of scowling customers and scanning milk. The incessant call of the petrol pumps. The constantly broken lottery machine. I'm forced to relive a time when my only entertainment for eight hours was a never ending production line of ill manners, reduced pasties and body odour. *shudders*. I know it's hardly the stuff of a Stephen King novel but I will always remember it as my personal hell.
The recurring nightmares are bad enough but I've built up enough a resistance to shake them off after a few minutes of feeling very sorry for myself. But this recent barrage of horror stories created by my own mind, is proving a little more difficult to get over. I've had allsorts over the last few weeks – from the death of family members to spooky intruders in the flat – but, sometimes, it not so much the content of the dream but my body's response to it. That sicky feeling, where you're not sure what is real and what isn't, is horrible and impossible to identify in those jolting first few moments after a dream, making it very hard to talk any sense into yourself. Last week I actually woke up shouting, which is alarming in itself when you're ripped out of sleep by the sound of your own voice. A few times, like last night, I've had such an adrenaline rush that I've just been totally unable to get back off to sleep, which, although it's frustrating, I can cope with during holidays but during term time, I panic I'll be tired for school and then can't recover the next day because I'm in work. It just ramps up into a vicious anxiety circle. I've spent several days over the last few weeks feeling emotional and exhausted because, like anyone, I really bloody value my sleep!
So what is causing it? I'll admit my bedtime reading hasn't been the most pleasant recently.  I've had American Psycho, Carrie and some very graphic Torchwood novels in the last few weeks but I've always been able to cope with anything I read before. I'll often leave the TV to send me to sleep but it's always with a light comedy (typically French and Saunders) or a Disney film. I've even taken solace in Desert Island Discs! I've found the internet is the worst pre-bed activity, because whether it's twitter or Instagram or BBC news, whatever I read seems to buzz around my brain for the rest of the night. It's a horrible feeling that I just can't come down from. A theory from a friend is that heat can trigger nightmares, which is tricky as hot water bottle season is in full swing. I suppose it could be a combination of things. Either way, I'm spending Halloween Eve exhausted, looking hideous and dreading going to bed. Great.