The new trailer for series 10 has landed and I couldn't be more excited. It's been a while since the Doctor was on our screens (except for the Christmas special) and I'd forgotten just how much I love this programme. With the latest hype over the new series and a new Doctor on the way, it's all change, and my excitement has been regenerated. I've spent Sunday watching some of my favourite episodes (be warned – NuWho only. I only started watching in 2005. Sorry!) and I couldn't resist revisiting some of the most gasp-inducing moments! I cannot believe I've only ever blogged about Doctor Who once – ridiculous! Allow me to rectify that.
(Oh and I've split this blog into two parts. Partly because it's massive but also just to be uber-annoying. Enjoy!)
Number 15 – Daleks! Bad Wolf, Series 1.
We'd already seen one Dalek in NuWho and, perhaps I was naïve to think we wouldn't see them again for a while. Just as we were recovering from Rose being murdered on live television, we were even more shocked to discover she is alive, but being held in a Dalek fleet ship. The cries of 'Exterminate' were genuinely terrifying. This episode also revealed the story arc of Bad Wolf. I remember being totally blown away to discover the messages Rose had left the Doctor throughout the series and had to re-watch immediately to spot them all over again. I think this is when I really began to admire RTD's work….
Number 14 – The Doctor is killed, The Impossible Astronaut, Series
6.
There was something about this series that felt very different from the start. We knew one character was going to bite the dust but we didn't realise it would be The Doctor, who was murdered at the side of Lake Silencio. Watching him get shot in the distance as Amy, River and Rory react in horror was very grim and a moment that haunted us for the rest of the series. (Note: The clever resolution in The Wedding of River Song should also be mentioned. Well done. Bravo. *claps*)

Number 13 – Skaro and Davros, The Magician's Apprentice, Series 9.
Well we didn't see this one coming. The opening story of series 9 was packed with twists and cliffhangers. Davros' return was kept a secret until transmission, a decision which certainly paid off. The moral focus of the storyline, as the Doctor struggles with the decision to rescue or abandon the young Davros, kept us thinking throughout. The moment Skaro materialises around Missy and Clara was also a skin-tingling moment and refreshing to see other characters react in horror to a reveal, rather than the Doctor.
Number 12 – The Zygon Invasion/The Zygon Inversion, Series 9.
Two of my favourite episodes to date. Subtly topical, this double bill acts as a sequel to the 50th anniversary episode and explores what happens when the 20 million Zygons hiding as humans on Earth begin to revolt. The parallels drawn between modern political issues make for a thrilling and thought provoking set of episodes and Peter Capaldi shines during a powerful speech on fairness and consequences of decisions. We also have the return of fan-favourite Osgood, who acts as a welcome source of morality in what can be a pretty grim set of episodes. Another underrated story that deserves much more praise.
Number 11 – Eleven Regenerates, The Time of the Doctor, Christmas special.
It's a bit annoying that Eleven happens to revert back to his younger state before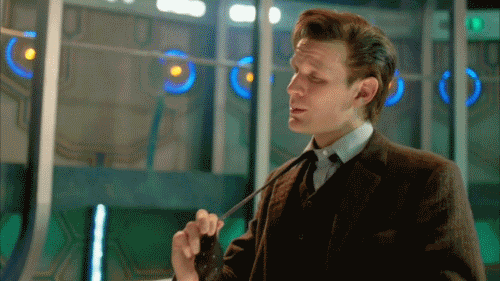 regenerating, but that aside, another powerful moment. Murray Gold does it again with an excellent score. The riff of 'The Long Song' as Amy reappears to the Doctor still brings a great big lump to my throat. And then he takes off his bow tie! Who would have thought such an action would leave millions in total despair?! But, I think what really pushes your emotional buttons in this scene is the Eleventh Doctor's last speech…
'I will always remember when the Doctor was me.'
You can't help think there's a bit more Matt Smith in that speech than the character he's playing.
Number 10 – Amy and Rory's deaths, The Angels Take Manhattan, Series 7.
Just when you thought Amy and Rory have survived their final episode, Rory is touched by a Weeping Angel and sent back in time to live out the rest of his life. A devastated Amy sacrifices herself to be with Rory and the Doctor is left bereft. *sniff*
Number 9 – The Master Returns, Dark Water, Series 8
Trapped in the Time War way back during The End of Time, we thought we'd saw the last of The Master. So, it was quite a shock to discover Michelle Gomez' bonkers Mary Poppins-esque Missy was in fact The Master in female form. Gomez injected new life into the character and plays Missy with devilishly mad style. Even though she's 'bananas' we can't help but love her….even if she did kill one of the Osgoods.