The great HP re-read continues and this week it is book five's turn.
It's the largest book (it could easily be used as a weapon) so I strategically planned to read to it over the Easter Holidays so I would actually have time to read and it wouldn't take me thirty years to get through it (I have a chapter-a-day habit during term time. Any more than that and I, frustratingly, end up falling asleep.)
It's been a good ten years since I read this series and, although I remember the gist of each book, a lot of things have slipped my mind – which in a way is great because it's like I'm a new reader again. This book certainly coughed up a lot of surprises for me. I'd forgotten about occlumency, sirius' mother, Bellatrix's connection to the Malfoys, and Grawp. I was also surprised when Lockhart popped up in St Mungo's. I'd signed Lockhart off as a character we wouldn't see again so it was great to have that short scene, even if it was tinged with sadness. I can't help feeling sorry for Lockhart. I know he was a first class prat but still….there was a moment of sympathy as he signed those autographs in his hospital bed. But of course, the main emotional pull of that chapter is the appearance of Frank and Alice Longbotton. Alluded to in previous books, this was our first glimpse at the severity of their condition and the impact it has had on Neville. Alice handing Neville a bubble gum wrapper was very touching and it's easy to see how, as Dumbledore later explains, Neville could have easily been in Harry's shoes. You can't help feel immediate hatred for Bellatrix Lestrange before she's even introduced! Her callous destruction of the Longbottoms serves as a warning of just how dangerous she can be….
Speaking of villains, this year's Defence Against the Dark Arts teacher is probably the most evil yet – Dolores Umbridge. I remember her being my favourite DADA teacher because she was just so vile.  Umbridge's danger is palpable because she is so desperate to rise to the top and please those in authority. I've met so many Umbridges – backstabbing, manipulative and quietly wicked – with a sickly sweet exterior. Ruthless throughout, the moment she suggests using the cruciatius curse is actually gasp-inducing. She a true villain. A villain that could be found in day-to-day life. She could be in any place of work , any family or on any street. That's what makes her so frightening – we all know a Dolores Umbridge.
In terms of magical creatures, we're introduced to the Thestrals in this book. JK has a clever habit of harking back to past stories with the invisible creatures pulling the Hogwarts carriages finally being revealed as Thestrals – dark, winged horses that can only be seen by people who have witnessed death. The mythology and legend surrounding the Thestrals is interesting with wizards believing them to bring bad luck due to their connotations with death. They're described beautifully in the book and synch well with the darkness of the novel.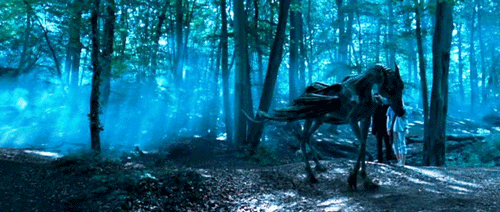 Harry is certainly changed since Goblet. He spends a lot of the book arguing with his friends, which does get slightly tiresome. Hermione and Ron are relentlessly loyal to Harry so it is frustrating that he keeps snapping at them. His relationship with Cho provides a glimmer of happiness in quite a bleak book, but even that fizzles out due to her mistrust and Harry's indifference. Cho was a promising character in Goblet, but in Phoenix she comes across as fickle and …well…a bit unstable. Yes, she's grieving for Cedric, but nobody seems very sympathetic as she continues to breakdown in tears. I would have been interested to see Cho and Harry date but this was not meant to be and by the end it's clear this relationship is a non-starter. I suppose it's in Cho's interest to stay away and stay safe.
This is certainly the most emotional book so far. Rowling set the bar in the final moments of Goblet, with the death of Cedric Diggory, but the last few chapters of Phoenix certainly meet that standard. The death of Sirius, Harry's last remaining hope of family, is a suckerpunch. Voldemort using Harry to lure Sirius to his death is a clever move by Rowling which also gives way to some tragically dark moments. Harry's resulting guilt is beautifully written – his angst, frustration and pain as he wanders the grounds of Hogwarts is very touching but the most poignant moment comes in his last conversation with Luna Lovegood. Luna seems to wander purposelessly throughout the book but she is finally defined in this last moment with Harry. It transpires that people have been taking oddball Luna's possessions. Harry offers help but she proclaims
'[I'll] wait for it all to turn up…it always does in the end.'
Totally lost on me the first time round, but now as an adult I can see Rowling is using Luna to give profound advice to Harry. Nothing lasts forever and in the end everything works out one way or another. Another emotional moment comes from fan-favourite Dumbledore, as his finally explains the truth about the prophecy to Harry. Dumbledore is notably absent throughout most of the book, and here he explains he was deliberately avoiding Harry for his own protection. As Dumbledore admits his mistakes and reveals that he 'simply cared too much' for Harry, the reader can't help feeling touched by the Headmaster's attempts to keep Harry safe. His final admittance that he thought Harry had enough responsibility without being a prefect is a very strong moment and perhaps a defining one in Harry and Dumbledore's friendship.
Goblet marked the start of a dark spiral to the finale and Phoenix certainly develops that. The death of Sirius, Harry's last caring relative, begins Harry's journey to adulthood and marks the death of his childhood. Not only does he now have to face the challenges of all young adults, but he also has that little problem of vanquishing the Dark Lord or dying at his wand. Yup, dark stuff.